Hiking underwear isn't the most exciting item on any gear list, but like a quality pair of socks or long johns, it's key to behind-the-scenes comfort for all-day adventures. If you've ever suffered through a switchback with sweaty cotton drawers with tight elastic scraping your skin, you understand just how miserable the wrong pair can make a trek to the top.
Good-fitting undergarments can keep you feeling cool, dry, and comfy no matter the conditions. We tested out a few pairs to find some of the best hiking underwear for both women and men for your next trip to the backcountry.
How We Picked the Best Hiking Underwear
As a seasoned hiker, I've donned dozens of different pairs of hiking underwear in the great outdoors. Some were so comfy I didn't think about them all day, and others caused so much chafing and yanking they nearly ruined an adventure. After lots of trial and error over the years, I've come to learn what to look for in hiking underwear and what to avoid at all costs.
To compile this list of the best hiking underwear, I considered fabric, fit, and overall comfort. I sported some on the trail and researched each pair at length, looking at size options, material, durability, and more.
Best Hiking Underwear: Reviews and Recommendations
BEST OVERALL
Specs
Materials: 38% merino wool, 38% lyocell, 16% nylon, 8% elastane
Rise: Low
Coverage: Full
Sizes: XS-XL
Pros
Seamless knit is incredibly soft and comfortable
Regulates down-there temperature in any conditions
Stretch fabric blend doesn't slouch or stretch out
Cons
More expensive
Care instructions call for only washing in cold water
Whether you hike across national parks in the hot and humid summer months or trek through snow-covered wilderness in the winter, you're bound to work up a sweat in your nether regions. A pair of hiking underwear that wicks moisture away from your skin and regulates body temperature is critical to keeping you dry, comfortable, and funk-free on the trail. These Smartwool hipsters check all those boxes.
Made with a blend of responsibly sourced merino and Tencel lyocell, they have all the benefits of wool—like a soft feel—along with the performance of a semi-synthetic fiber. Smartwool's Intraknit technology creates a seamless design that breathes and flexes. When I wore them, the underwear didn't add any bulk under my shorts or dig into my midriff.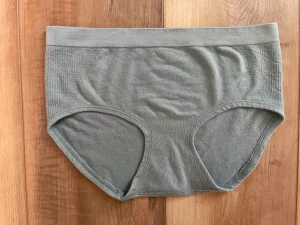 These are some of the comfiest underwear I've ever worn. Even as I sweated, the hipsters kept me dry without stretching out or sliding down. And they stood up well to a cold wash cycle followed by a low tumble dry. They're a pricey pick, but they're durable enough to stand up to years of adventure.
BEST WOMENS
Specs
Materials: 88% nylon, 12% spandex
Rise: Low
Coverage: Full
Sizes: XS-XL
Pros
Made with 40% recycled nylon in Fair Trade Certified factory
Seamless waistband stays smooth under clothing
Single-sided binding on leg openings prevents chafing
Cons
Large tag stitched into waistband
Not as durable
If you're on the hunt for hiking underwear that performs at a high level and is a more sustainable option, check out the Patagonia Active Hipsters. The underwear is constructed with breathable recycled nylon that's produced in a Fair Trade Certified factory. The lightweight fabric blend features miDori bioSoft, upping the softness and moisture-wicking factor, and HeiQ Pure helps control odors during sweaty treks.
The hipsters sport a seamless waistband that won't dig in or bulge under clothing. Along the leg openings, single-sided bindings prevent chafing. If you can get past the potentially itchy tag stitched into the waistband—which I'm sure you could cut out—the Patagonia underwear is incredibly comfortable for all sorts of adventures.
BEST MENS
Specs
Materials: 67% merino wool, 33% polyester
Rise: Mid
Coverage: Full
Sizes: M-XXL
Pros
Soft Nuyarn merino comfort
Designed for any temperature conditions
Low-profile waist and flat-lock seams
Cons
Our male tester was a big fan of these KUIU boxer briefs thanks to their buttery soft feel and superior breathability. I can vouch for KUIU's Nuyarn technology which makes for the softest, stretchiest wool I've ever worn. The merino wool blend staves off stink, keeps your skin dry, and maintains its quality wear after wear. The KUIU underwear also boast merino's incredible ability to regulate temperature. So whether you're sporting these on a mid-summer hike or a backcountry hunt in the heart of winter, at least part of your body is going to stay comfortable.
We found they provide ample support where it matters and strike a good balance of roomy yet snug. The boxer briefs are finished with a low-profile waistband and flat-lock seams to prevent bulk and chaffing.
BEST WOOL
Specs
Materials: 83% merino wool, 12% nylon, 5% LYCRA
Rise: Low
Coverage: Minimal
Sizes: XS-XL
Pros
High merino content for wool performance
No VPLs under leggings or compression shorts
Slim fit to eliminate bulk
Cons
Gusset and waistband run small
While I'll occasionally wear hiking shorts, I usually opt for compression leggings or bikers shorts on the trail. Because I hate having visible underwear lines—no matter what I'm doing—a thong is my best bet when I gear up for a hike. The Icebreaker Merino Siren thong is one of the best options out there anyone like me who prefers minimal coverage. It's also one of the best pairs of wool hiking underwear you can buy.
Made with a high percentage (83% to be exact) of merino wool, Icebreaker underewar is moisture-wicking, odor-resistant, and thermo-regulating. The 18.9-micron merino feels soft and doesn't itch your skin, and the ultralight style features a slim, no-bulk design.
BEST QUICK DRY
Specs
Materials: 91% nylon, 9% spandex
Rise: Low
Coverage: Full
Sizes: XS-XXL
Pros
Microscopic jade keeps skin cool
Doesn't bunch or ride up
Durable quality will stand up to abuse
Cons
Wide and somewhat stiff bands around waist and leg openings can dig into skin
The Armachillo Cooling hipsters from Duluth Trading Co. live up to the brand's tough and gritty reputation. I could tell they'd hold up to plenty of wears and washes as soon as I slipped them on, thanks to the thick durable material and quality construction. But what truly sets these underwear apart is the microscopic jade embedded in the fabric to keep things nice and cool down south, even when the weather is blazing. And after suffering through a few 95-degree days, I can tell you it really works.
They also prevent swampiness with a moisture-wicking fabric blend and odor-fighting treatment. These hipsters don't bunch or budge, so you won't have to worry about picking or pulling at your shorts on the trail.
BEST BUDGET
Specs
Materials: 86% polyester, 14% spandex mesh
Rise: Mid
Coverage: Medium
Sizes: XS-3X
Pros
Lightweight, barely-there feel
Mesh fabric is super breathable
Available in a wide range of sizes
Cons
Can slip and slide
May not hold up well to washing
Underwear is a lot like socks in that my favorites often seem to go missing after a trip to the dryer and I replace them on a regular basis. So I don't like to splurge on a piece of clothing I won't keep for too long—and especially one that other hikers won't ever see. The affordable price is one of the big selling points of the REI Active Bikini underwear. While it performs well, it's cheaper than others on this list so you can stock up for the hiking season without sticker shock.
The underwear is constructed of a synthetic mesh that's so lightweight and breathable that sweat doesn't stick around for long. I was able to wear it for hours in the heat of summer without feeling damp or uncomfortable. Even better, it's finished with an antimicrobial treatment to prevent the stink that often comes with long days on the mountain. I really like the low-profile seams on this underwear, which made it a cool and comfy choice on a recent hike. This pair is easily one of my new favorites.
What to Consider When Choosing Hiking Underwear
Comfort
After years of hiking trails in all different conditions and geographic locations, I can confidently say that comfort is the most important factor when picking hiking underwear. While your personal preference in style will play a part in how you feel in a pair, comfort comes down to more than just hipster versus thong. Look for options that won't dig into, chafe, or irritate your skin — seamless, tagless designs are usually best. Avoid thick elastic around waistbands and leg openings, but make sure the underwear still stay in place when you move. Opt for lightweight materials that wick moisture away from the body and dry quickly to avoid a soggy bottom.
Odor Control
Even if you're solo hiking, you still won't want to smell your own stink. Choose underwear that offer some form of odor control. Some materials, such as merino wool, naturally prevent odors, while many many underwear constructed with synthetics feature odor control technology to keep funk at bay.
Quality
You don't need to buy the priciest underwear to get great performance, but you probably don't want to go with the cheapest pair, either. You get what you pay for. Choose underwear made with high quality material and durable construction to avoid fabric fraying or elastic snapping mid-hike.
FAQs
Q: What's the best fabric for hiking underwear?
Cotton can be great for everyday wear, but I recommend avoiding it when shopping for hiking underwear. The best fabrics are quick-drying and moisture-wicking, since you'll likely be sweaty by the time you reach a summit. Synthetics such as nylon and polyester can offer plenty of stretch and durability while preventing dampness. Merino wool is also a great option because it's naturally odor-resistant and hydrophobic.
Q: What style of underwear is best for hiking?
The best style for hiking underwear is largely based on personal preference. If you're prone to wedgies and like full coverage, briefs, hipsters, or boy shorts might be your best bet. If you want to avoid panty lines in leggings or biker shorts, a seamless thong will provide the smooth minimal coverage you need.
Q: How should hiking underwear fit?
A good-fitting pair of hiking underwear should be snug enough that it stays secure on your waist when climbing or bending without bunching but not so tight that bands dig into your skin or feel uncomfortable. Review manufacturer size charts and reviews before buying—you may want to size up or down depending on the style.
Best Hiking Underwear: Final Thoughts
The best hiking underwear is constructed with quality materials that will keep you dry, comfortable, and stink-free for hours. We like every pair on this list, but my favorite is definitely the Smartwool Intraknit Hipster thanks to its soft fabric and superior fit.