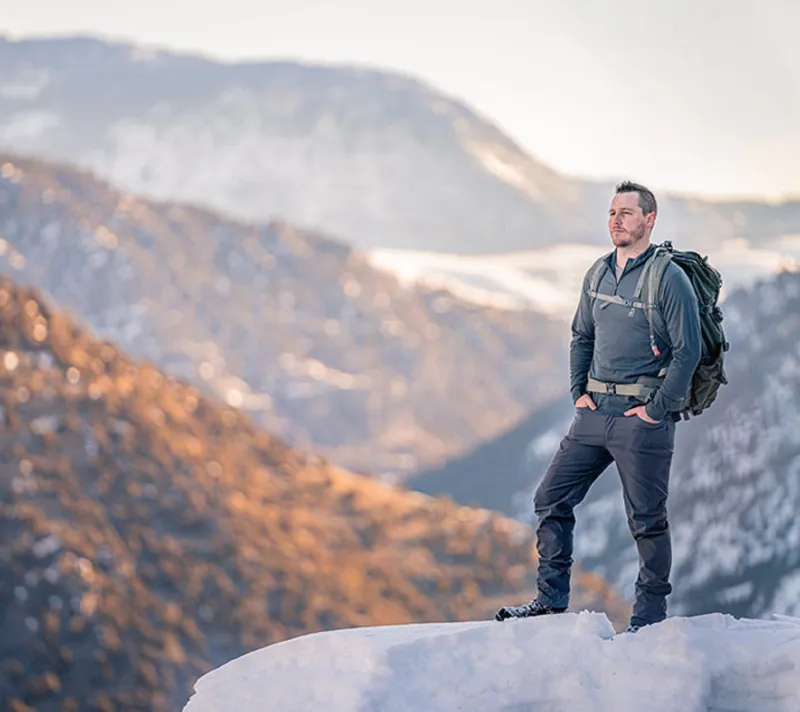 While the changing weather and varying temperatures can present challenges, you don't have to compromise on your style, as we've got the perfect solution to keep you looking sharp and feeling comfortable year-round. We're bringing you the crème de la crème of merino wool clothing from renowned brands like Smartwool, TREW, Icebreaker, Outdoor Vitals, and more. From lightweight tees that feel like a second skin to shorts that offer unrestricted movement, we've curated a collection that's tailor-made for the modern man.
This summer you can sip a drink by the pool while sporting a merino wool polo that effortlessly combines style and functionality. The moisture-wicking properties keep those embarrassing sweat stains at bay, and the natural odor resistance ensures you stay as fresh as a summer breeze. You can easily slip into these for a laid-back evening grabbing a drink with friends or while you tackle the daily grind without feeling uncomfortable, regardless of the weather outside.
Smartwool Men's Merino 150 Polo Shirt
Smartwool, a brand renowned for producing high-quality merino wool clothing, offers a fantastic range of lightweight apparel for men that includes shirts, polos, shorts, and pullovers, perfect for hot weather. Among its impressive lineup, the Men's Merino 150 Polo stands out as a true gem. This classic shirt is designed to be your go-to option when space in your bag is limited, ensuring you stay stylish and comfortable for date nights on the terrace and sunset strolls through the city.
Made from easy care, no-stink merino wool, the polo boasts a relaxed fit and a three-button front placket, providing a classic and versatile look. But the real magic lies in the details: offset shoulder and side seams are thoughtfully incorporated to enhance comfort, especially when wearing a backpack. The fabric offers UPF 20+ protection, making it an ideal choice for sun-drenched days. Crafted from a blend of 87% merino wool and 13% nylon core, this polo is not only lightweight and breathable, but it's also durable enough to withstand your active lifestyle.
TREW Gear Men's Lightweight NuYarn Wool Pocket T-Shirt
TREW is a brand that stands out in the market for its collection of lightweight merino wool clothing for men. What sets this brand apart is its innovative use of NuYarn fabric technology. This enhances the natural benefits of merino wool, making the products stronger, lighter, warmer, and quicker to dry compared to traditional ringspun merino, meaning you get total comfort whether there is a boiling heat wave or comfy fall temps.
TREW Gear Men's Lightweight NuYarn Wool Pocket T-Shirt is a standout product in TREW's collection of lightweight merino wool clothing for men. This minimalist pocket tee is designed for everyday wear and boasts remarkable versatility and a stylish design. Additionally, the T-shirt boasts 85% more elasticity and 50% greater tensile strength, ensuring it remains durable and reliable during outdoor activities like hiking or mountain biking. With a $75 price tag, it's a bit of a splurge, but it's so much more than a basic T-shirt and it comes in nine different colors that will suit any skin tone.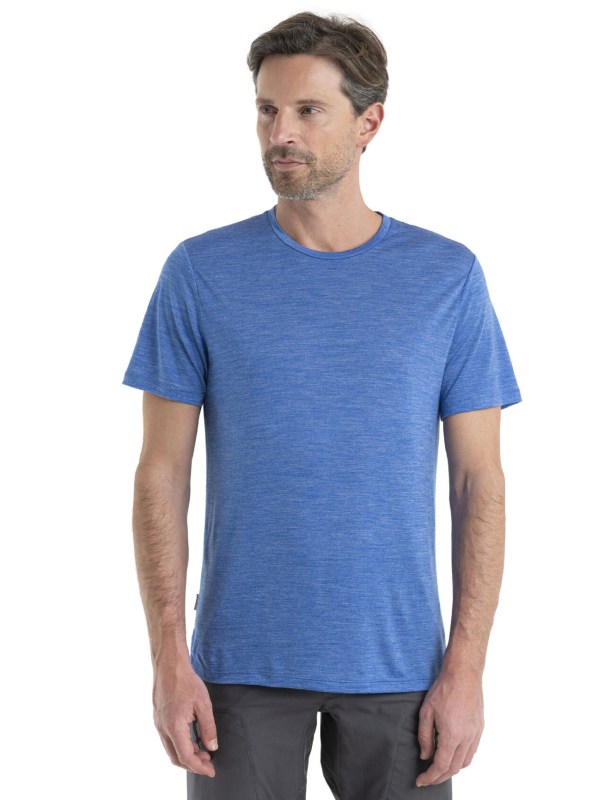 Icebreaker Merino Sphere II Short Sleeve T-Shirt
Elevate your everyday style and comfort with the Icebreaker Merino Sphere II Short Sleeve T-Shirt. This shirt, expertly crafted from a blend of 60% Tencel and 40% merino wool, offers a unique fusion of luxury, performance, and sustainability. The cutting-edge Cool-Lite jersey fabric ensures a lightweight, breathable experience, expertly wicking moisture away from your body to keep you feeling fresh and dry throughout the day, whether you're hiking mountains or simply having a drink on the terrace. The thoughtful design details, including side splits at the hem for enhanced ventilation and mobility, offset shoulder seams to prevent friction, and a drop tail hem for added coverage, showcase the brand's commitment to both functionality and style.
Icebreaker's dedication to innovation shines through in the engineered body-mapped technology, which works to regulate your body temperature and promote breathability during high-intensity activities. The zoned temperature regulation adapts to your body's needs, ensuring optimal comfort in varying conditions. Thanks to the natural breathability and odor-resistant properties of merino wool, you can confidently navigate your day without compromising on freshness. Whether you're pursuing outdoor adventures or simply enjoying urban life, the Icebreaker Merino Sphere II T-Shirt is your versatile companion for comfort and performance.
Outdoor Vitals DragonWool Hoodie
Outdoor Vitals is a go-to destination for top-notch merino wool options; it's not only dedicated to providing high-performance gear but also committed to sustainable and eco-friendly practices. For all the environmentally conscious men out there, this is a brand that aligns with your values; you can explore the great outdoors with peace of mind, knowing you're making a positive impact on the planet.
The DragonWool Hoodie is the pinnacle of advanced performance fabric, combining patented no-spin merino wool and jersey-face polyester to create a revolutionary base layer. This hoodie boasts a range of impressive features that make it perfect for any adventure. It's quite the oxymoron in that it's warm even when wet, dries four times faster than regular merino wool, and is odor resistant, making it ideal for multi-day trips.
Designed with convenience and comfort in mind, the hoodie features a one-third-length zipper, allowing for easy on and off as well as ventilation when needed. The hood offers additional coverage and protection from cold, wind, or sun, while the thumbholes keep more of your hands covered for added warmth. Its actively breathable nature ensures you can cool off while on the move, making it an excellent choice for various activities.