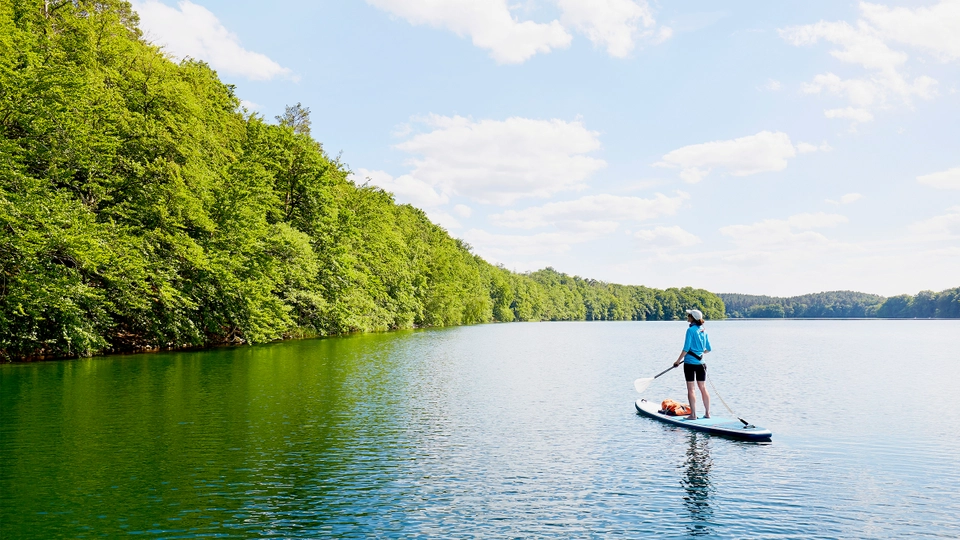 July is for paddling on cool lakes and summertime travel. Here's the gear that kept us hydrated, comfortable, and happy outside in the warmest month of the year.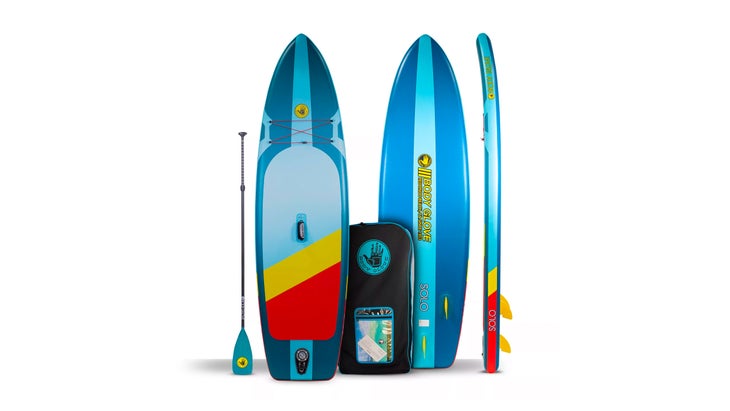 Body Glove Solo SUP ($519)
I've been living The Life Aquatic this summer, hitting my local lakes and reservoirs at least once a week for a paddle, mostly with my 4-year-old son. I've been glad to have this affordable, reliable board beneath my feet. This 10'6″ board tracks nicely thanks to its triple dolphin fins and handles reasonably well, but its real selling point for me is its stability. Thanks to its extra-wide tail, which lets it behave like a wider board without increasing its width at the waist, it barely rocks even when my kid is fidgeting, climbing back and forth, or peering over the edge to look for Baby Shark. The durable, drop-stitched construction has barely scuffed even after a couple of close encounters with submerged logs and rocks, and the 320-pound weight capacity is more than enough to handle both of us, a dry bag, and a light cooler of drinks and snacks. —Adam Roy, executive editor, Backpacker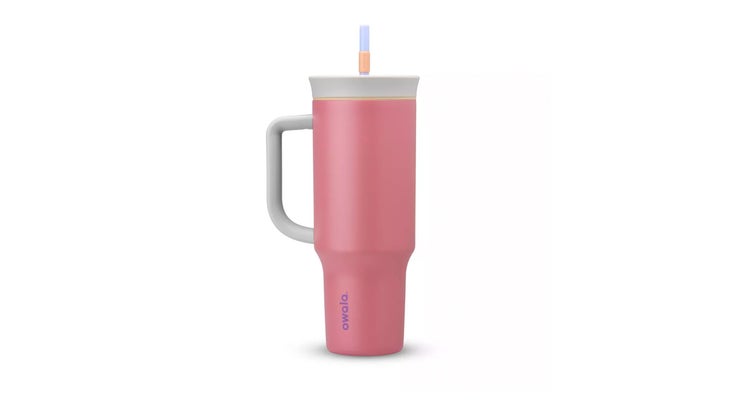 Owala 40 oz Tumbler ($38)
I'm late to the game on the tumbler trend, and I wasn't planning on giving in. But that was until I tried the Owala Tumbler. I get it now. I've been a big fan of the Owala bottle for quite some time (as a germaphobe, I love that their built-in straws are covered and the bottles are easy to wash). So when I saw the brand came out with a tumbler, I finally came around to try it. My 40 ounces of water stay cold all day and in the inevitable case in which I accidentally knock over the tumbler, I never worry about spillage thanks to the airtight cap. Best of all, I drink a lot more water—I refill my tumbler at least twice a day. It comes in a multitude of fun colors, so the choice is yours. —Jamie Aranoff, digital editor, SKI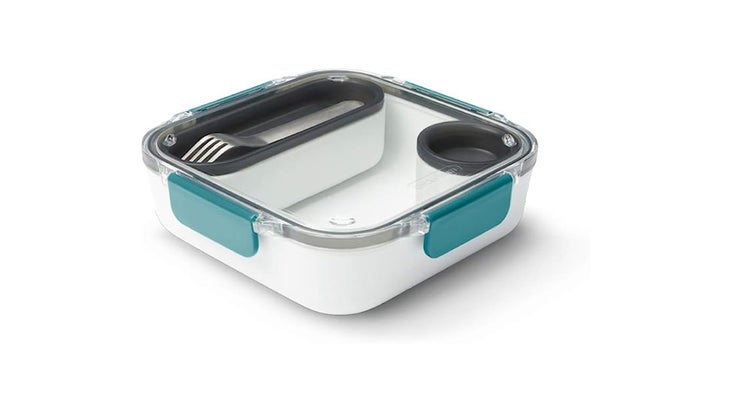 The Black + Blum Lunch Box Original ($30)
I've been working really hard to reduce waste when I travel. About a month ago, as an experiment, I collected every bottle, cup, napkin and container I used on a cross-country flight. It was pretty gross (see for yourself) and re-inspired me to do better. One product that helps is this elegant lunch box by Black + Blum. Before a trip, I pack a healthy meal (which also helps me reduce my food waste) into its tidy compartments, which lets me skip the nasty airport food and all the accompanying plastic and paper waste. So far, I've packed a burrito and salsa, a salad and dressing, a sandwich, chips, a pickle—even leftover pasta with a side of grated parm. No smushing, no leakage, no waste. Then, throughout my trip, I have a zero-waste container for restaurant leftovers. —Kristin Hostetter, head of sustainability and contributing editor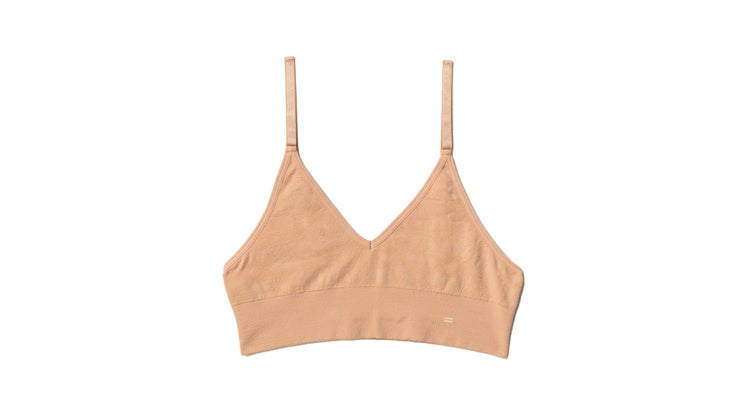 Branwyn Essential Bralette ($48)
I'm terrible at sleeping on planes (or really anywhere that's not my bed), because I need total comfort to drift off. But I wore this bralette on a ten-hour flight from Denver to Munich and slept the vast majority of the trip. Yes, I had a row to myself and no crying babies on the flight, but it felt like I wasn't even wearing a bra. The stretchy, soft material, made with 81 percent extra fine Merino wool, 12 percent nylon, and 7 percent spandex, hugs my body naturally without squeezing. The silhouette works with most of my shirts and tanks, so I don't have to worry about straps showing. This is the bralette I reach for when I don't want to go completely braless but need maximum comfort (which, realistically, is most of the time). It comes in black, gray, and three different skin-toned colors. Keep in mind that I don't need a ton of support, and the website says this bra is for C-cups, max. —Kelly Klein, associate gear editor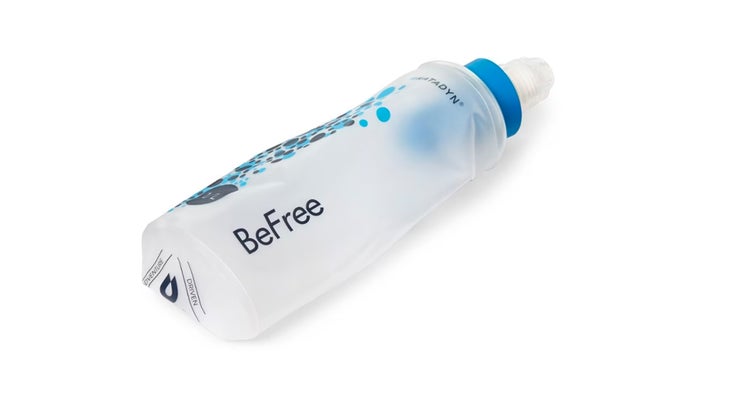 Katadyn BeFree Water Filter ($50)
I have stained Nalgenes with iodine, carefully droppered Aquamira into a tiny cap during a windstorm, and tirelessly pumped water through inefficient, bulky water filters. Never again. The BeFree is aptly named—it takes all the inconvenience out of water filtration and hauling. I bought it thinking it would come in handy for fast-packing and long day hikes and runs, but it has turned out to be endlessly useful in a wide range of situations. Instead of clanging around the river with a metal bottle while I fly fish, I tuck an empty BeFree into a pocket, pull it out and fill it when I'm thirsty, empty it, and pocket it again afterward. If I know I'm crossing streams on a day-long mountain bike epic, I no longer haul around 3 liters of water to ensure my safe passage—I'll carry around maybe a liter, and pop this in my fanny pack for when I'm running low. It's a game-changer, and reasonably priced at that. Bonus points: the filter is easy to maintain and clean, and if your collapsible bottle has sprung a leak, Katadyn is great about replacing them. —Abigail Barronian, senior editor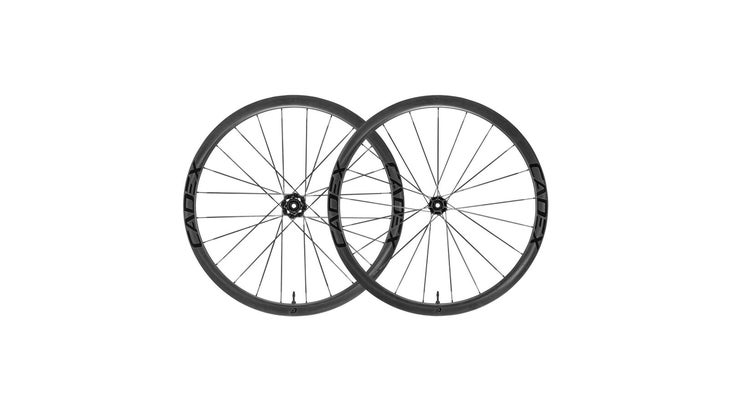 Cadex 36 Disc Tubeless Road Wheels ($2,500)
In my old job as editor-in-chief at VeloNews magazine, the editorial staff often debated an age-old question about road bike racing. What single service or product—other than the bicycle itself—would make you the fastest? Was it a coach, a nutrition plan, or some fancy doohickey? So passionate (and split) were the answers that our coaching columnist Trevor Connor used the topic to launch a successful podcast. Experts weighed in for coach Connor's podcast, and after all of the debate, the answer that everyone came to was a set of aerodynamic carbon-fiber wheels. The aerodynamic shapes of high-end wheels can slice through the wind; the weight savings top-end wheels have over standard ones is enormous; and fast wheels can also reduce rolling resistance with the road surface. Memories of this debate have popped into my mind during my summertime road rides because I have been testing a set of Cadex 36 Disc Tubeless road wheels. These wheels have transformed my bike's performance on long and steep climbs—I now feel like I am rocket-powered when the road goes uphill. The wheels weigh just 1,302 grams (2.9 pounds), which is 1.2 pounds lighter than the fancy, carbon-fiber racing wheels I usually ride. The Cadex wheels are extremely stiff, with high-tensile aerodynamic spokes, and I have noticed the biggest performance difference when I accelerate out of the saddle on gradual to moderately steep sections of road. I can actually drop people now. Throughout the summer I have registered personal records on several of my favorite climbs around Boulder, and I can attest to the fact that I'm no skinnier, stronger, or younger than I was last summer. The wheels also have ceramic bearings and an innovative rim/tire interface—both innovations make me zoom down descents. At $2,500, the wheels are definitely an investment. But they do end the debate from all of those years ago. If you want to go faster on your road bike on long climbs, check them out. —Fred Dreier, articles editor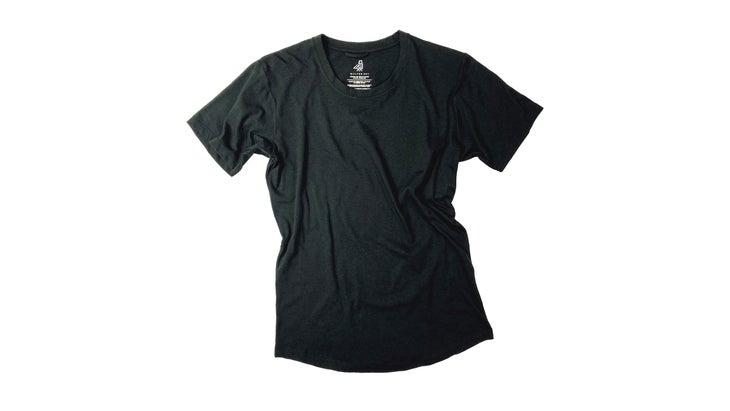 Walter Sky WS-MT01 t-shirt ($75)
Last winter, I enjoyed the combination of softness, warmth, and breathability that this 70-percent Merino tee provided during chilly runs, but I assumed it would be too hot to wear for anything very active when the temps began to rise. I was wrong. Fed up with synthetic T's that feel plasticky and cling to my body, I tried the Walter Sky shirt on some sweltering runs in Nebraska, and found it exceeds every other running top I have in comfort, moisture management, and durability. The touch of the Nuyarn fabric (which uses a novel spinning process) is soft and light, the thin weave lets every small breeze through, and, even when soaked with sweat, the shirt stands away from my body rather than sticking to my skin—and dries swiftly. As for durability, I kept it on after a run and mowed and trimmed the lawn in it without fear of damaging the natural fibers. And even after a week of runs without washing, it doesn't smell stinky. My only gripe is that the hemline falls a bit long for me; I solved that by tucking some of it into my waistband, but I'd prefer three to four fewer inches. —Jonathan Beverly, senior running gear editor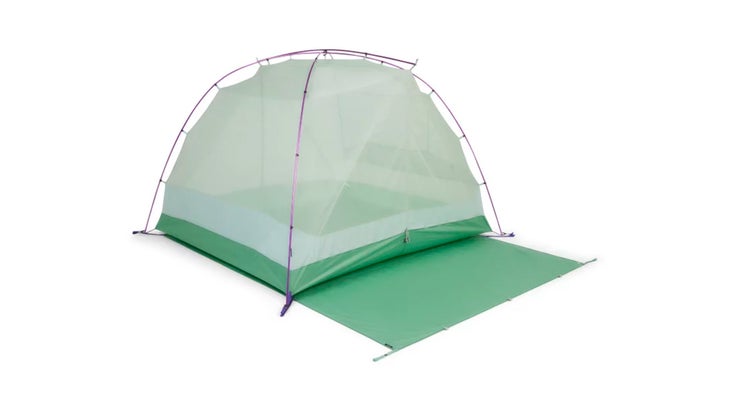 Mountain Hardwear Bridger 4 Tent ($780)
The Bridger 4 tent is a meticulously designed masterpiece, offering a sprawling living space that feels like a true home away from home. Its standout feature is the massive front porch-style hangout area, which extends the covered living space beyond the tent. During a recent camping trip in Idaho, our two dogs spent hours enjoying the shade it provided while I relished the easy entry and exit through the swing-open 'saloon doors' and the breathtaking morning view of the lake. The thoughtfulness of the design is evident with the inclusion of removable gear lockers featuring multiple pockets, offering ample storage space for helmets, shoes, tools, and other essentials. The symmetrical and rectangular architecture also allows for a head-to-toe sleeping configuration, maximizing individual space and comfort. The adjustable cording system allows you to rig up a dry line for gear storage inside. The Bridger 4 tent has a full coverage fly, seam-taped waterproof construction, and a lightweight bathtub-style floor. The full mesh upper canopy optimizes ventilation, ensuring proper airflow and unobstructed night sky views. Pitching the tent is a breeze, thanks to the pre-bend poles and gated cross poles. The Bridger 4 tent is an excellent choice for outdoor adventurers searching for a reliable, feature-rich shelter. —Sierra Shafer, editor in chief SKI
CEP Hiking Max Cushion Mid Cut Compression Socks ($28)
I battle shin splints and foot pain, so I'm picky about the socks I wear to run and hike, especially over long distances. Enter: CEP's Max Cushion Mid Cut Compression Socks—a game-changer on full-send trail days. Their mid-calf height protects my lower legs from cacti, and extra padding around the ankles and Achilles provides solid comfort over New Mexico's burly terrain. Plus, merino wool wicks sweat to keep my feet dry, even in the hottest temps. —Patty Hodapp, interim digital director, Outside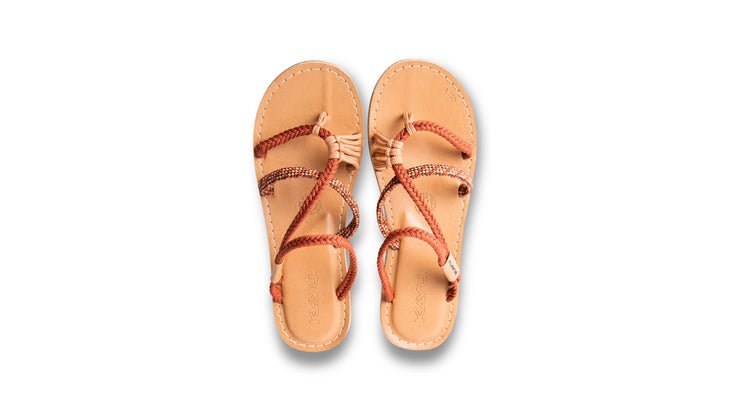 Kavu Horizon Rope Sandals ($75)
I loathe heavy sandals, so I'm thrilled to sport Kavu's new Horizon kicks. Simple, lightweight, and anatomically designed to fit, these summer shoes feature toe loops and rope cording for easy slip-on and slip-off. They look great, but they're functional enough to take from the trailhead to date night afterwards.—P.H.